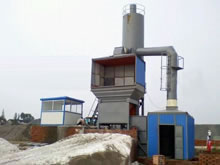 Lime Digestion Machine
This product has been discontinued and removed from our shelves.
Features of Lime Digestion Machine
1.With simple structure, the lime digestion machine covers a compact area.
2. This lime digestion machine is energy saving, environment friendly and pollution-free.
3. With quick and complete digestion of raw lime, the production efficiency is high.
To meet the needs for the high quality, stable lime layer used for the basic construction of highway, our company has developed a new kind of computer controlled lime digestion machine on the basis of the advantages derived from other companies and our rich production experience. Its productivity and the mixture ratio can be set freely within the rated range. The raw lime is transported into the digestion equipment and crushed by the crusher. Then under the action of high pressure water spray and mixing, the raw lime will be digested mechanically.
Application of Lime Digestion Machine
The lime digestion machine is applied to large scale infrastructure construction and construction of roads, bridges, airports, ports, and other construction projects.
Technical parameters
| | | |
| --- | --- | --- |
| Item | Unit | Parameter |
| Production capacity | t/h | 20-80 |
| Total power | kw | ≈50-75 |
| Maximum grain size | mm | 35 |
| Water weighing precision | % | ≤±1.5 |
| Aggregate weighing precision | % | ≤±1 |
| Area | m² | 10*15 |
| Assembly form | | Dismountable |
| Control type | | Computer or manual control |
Material
The lime digestion machine is made of steel plate and steel frame.
Package
Packed in bulk or in container.
YONG SHENG SHIPYARD is an experienced manufacturer and supplier of lime digestion machine in China. In order to meet customers different needs, we also provide gold panning ship, cutter suction dredger, reverse osmosis water purification system, bag filter, and more. With high quality and reliable performance, these products are well received in Iran, Russia, Iraq, Vietnam, Thailand, North Korea, Malaysia, Singapore, the Philippines, India, Bangladesh, Libya, Namibia, Nigeria, just to name a few.
If you are interested in our products, please feel free to contact us. We at YONG SHENG SHIPYARD look forward to working with you.