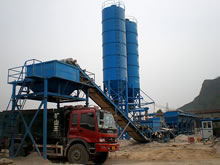 Stabilized Soil Mixing Plant
This product has been discontinued and removed from our shelves. Features of Stabilized Soil Mixing Plant
1. With compact structure, the stabilized soil mixing plant offers accurate measurement, high-quality mixing and reliable performance.
2. Computerized or electronic frequency batching system ensures continuous, reliable supply of materials and accurate batching.
3. This machine is easy to move and install.
4. The stabilized soil mixing plant can mix four, five or six kinds of materials together and handle stabilized soils in various mixing ratios.

Stabilized soil mixing plant is used for continuously producing materials of road bed layer. There are mainly three kinds of stabilized soil mixer: module type, portable and fixed type. This series of product comes in more than 40 styles. Its productivity is 200 - 600MT/h. The mixing plant is composed of aggregate batching and weighing system, water supply system, stirring device, material storage system and control system, and more. With horizontal twin-shaft stirrer, the stabilized soil mixing plant has long life.

Application of Stabilized Soil Mixing Plant
Stabilized soil mixing plant is ideal for large scale infrastructure construction and construction of roads, bridges, water conservation projects, city buildings, advanced highways, railways, airports, ports, and others.

Technical parameters
| | | |
| --- | --- | --- |
| Item | Unit | Parameter |
| Type | | WDB300 |
| Productive ability | t/h | Gravel 350 Lime 250 |
| Total power | kw | 90 |
| Total weight | t | ≈35 |
| Maximum diameter of aggregate | mm | 60 |
| Powder measurement accuracy | % | ≤1 |
| Aggregate measurement accuracy | % | ≤1 |
| Area | m3 | 800 |
| Control form | | Computer control or manual control |
Material
The stabilized soil mixing plant is made of steel plate and steel frame.
Package
Packed in bulk or in container.
Thank you for visiting our website! As an experienced stabilized soil mixing plant manufacturer and supplier in China, we at YONG SHENG SHIPYARD have aimed to satisfy our global customers by providing a wide range of products, including gold panning ship, jig separator, ultrafiltration system, EDI equipment, and more. With reliable performance and reasonable prices, these products are well received in Iran, North Korea, the Philippines, Vietnam, Thailand, Malaysia, Bangladesh, Libya, Namibia, Nigeria, Singapore, India, etc.
If you have any need, please contact us. We at YONG SHENG SHIPYARD are looking forward to cooperating with you. Thank you.