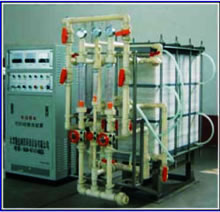 Electrodialysis Equipment
This product has been discontinued and removed from our shelves.
Features of Electrodialysis Equipment
Using advanced technology, our electrodialysis equipment can supply you high purity degree of water.
Working principle
When the water flows through the ion exchange membrane of Electrodialysis equipment and under the effect of DC, the kation in water will pass the positive membrane and anion will pass through the negative membrane.
The electrodialysis equipment has a separating room composed of membranes and clapboard. The anion in the fresh water room moves in positive direction, and kation in negative direction, so that the water in the fresh room can be desalted, the solution in condensed room can be condensed in order to get desalted and purified.
These are how the electrodialysis equipment gets purified water.
Application of Electrodialysis Equipment
It is used in food, beverage, chemical, hospital, electrical fields and can also be used as critical facilities in community, industrial park, oil field, etc.
Technical parameters
Model
Assemble form
Water production(T)
Requirements of water input
Membrane specifications
ED-X-Ⅰ
Four stages four Sec
1
Turbidity<2UNT
200×800×0.9
ED-X-Ⅱ
Three stages three Sec
2-3
Temperature 5-45℃
400×800×0.9
Four stages four Sec
3-4
Mn<0.1mg/l
400×800×0.9
ED-X-Ⅲ
Three stages three Sec
5-7
Fe<0.3mg/l
400×1600×0.9
Four stages four Sec
4-6
Free chlorine<0.2mg/l
400×1600×0.9
ED-X-Ⅳ
Two stages two Sec
20-25
Oxygen consumption
800×1600×0.9
Three stages three Sec
20-25
3mg/l O2GODMn
800×1600×0.9
Maintenance
1. Before using the electrodialysis equipment, please make sure the water is well pre-treated.
2. On the basis of adjustment test, draw up a rule of equipment operation and fix operating parameters.
Package
Delivered in wooden box.
As a professional electrodialysis equipment manufacturer and supplier in China, we also provide a wide range of cutter suction dredger, filling machine, lime digestion machine, jig separator, and more. As a result of their reliable performance and competitive prices, our products are sought after by customers from Russia, Iran, Malaysia, Iraq, North Korea, Vietnam, Thailand, Singapore, the Philippines, India, among other countries.
If you have any related need, please contact us via any of the methods listed on the website.