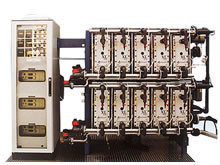 EDI Equipment (Electrodeionization)
This product has been discontinued and removed from our shelves.
Features of EDI Equipment (Electrodeionization)
1.Using EDI pure water processing technics, EDI equipment can supply super pure water.
2. This water treatment equipment adopts RO facilities combining with ion-exchange bed.
Application of EDI Equipment (Electrodeionization)
EDI Equipment is applicable for getting super pure water in electrical and chemical industries as well as hospitals, etc. and the electrical resistivity of water ranges from 2 to 18 kΩ•m.
Working principle
The EDI equipment works with RO facilities combining with ion exchange bed or EDI. The ion exchange bed is working by ion exchantge resin in electrolyte solution, and functions to wipe off all kinds of kation and anion to produce high purity water. When the raw water passing ion exchange pole, the kation and anion in water will exchange with H+ in positive resin and OH- in negative resin respectively to get salt taking-off. Thus, high purified water is achieved.
EDI technics
EDI is a new pure water and super pure water producing technics developed in 1990s.The technique skillfully integrates electrodialysis and ion-exchange, through selectively permeating to kation and anion, and exchanging to ions, get the ions to move in a direction under DC to complete salt taking-off water, meanwhile super pure water can be produced continuously without acid and alkali chemical regeneration. EDI equipment refers to a kind of water treatment equipment designed on EDI techniques.
Package
YONG SHENG SHIPYARD EDI equipment is delivered in wooden box.
We are a professional manufacturer and supplier of EDI Equipment, based in China. Our main products include chain bucket sand dredger, sewage treatment plant, packing machine, jig separator, and more.
Located in Qingzhou City, Shandong Province, we are near to highways, ocean ports, and airports. This will facilitate the transportation of your goods.
For more information about our water treatment equipment or other products, please contact us at YONG SHENG SHIPYARD.