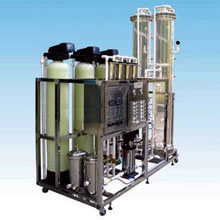 Ultrapure Water Equipment
This product has been discontinued and removed from our shelves.
Application of Ultrapure Water Equipment
The ultrapure water equipment is used in food, beverage, chemical, hospital, electrical fields and can also be used as critical facilities in community, industrial park, oil field, etc.
Working principle
Ultra pure water equipment is working with RO facilities combining with ion exchanger or EDI. Ion exchanger is working by ion exchanger resin in electrolyte solution, and can be used to wipe off all kinds of kation and anoin. It is a method to produce high purity water.
When the raw water passing ion exchanger pole, the kation and anion(HCO3-plasma) in water will exchange with H+ in positive resin and OH-D- in negative resin to get salt taking-off. The combination of kation and anoin will get the water higher purified.
Package
YONG SHENG SHIPYARD ultrapure water equipment is delivered in wooden box.
Thank you for visiting our website! As an experienced ultrapure water equipment manufacturer and supplier in China, we have aimed to satisfy our global customers by providing a wide range of products, including dry ore magnetic separator, filling machine, cutter suction sand dredger, wheel loader, and more. With the advantage of reliable performance and competitive prices, our products have been exported to Thailand, Malaysia, Singapore, Russia, Iran, Iraq, North Korea, Vietnam, the Philippines, India, Bangladesh, Libya, Namibia, Nigeria etc.
If you want to know more information, please contact us at YONG SHENG SHIPYARD.