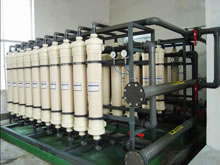 Ultrafiltration System
This product has been discontinued and removed from our shelves.
Features of Ultrafiltration System
1. The ultrafiltration system is easy for installation, operation and maintenance.
2. It can provide high quality water at low operational cost.
YONG SHENG SHIPYARD ultrafiltration system is provided at reasonable prices and we also promise a quick delivery.

Application of Ultrafiltration System
The ultrafiltration system is commonly used in water treatment equipment for getting drinking water, mineral water, industrial ultra-filtration water, and so on.
Ultra-filtration
Mineral water, spring water is usually produced with pressure as driven force, by the use of UF membrane with different diameter to separate impurities. At present, PSU and polypropylene hollow fiber is applied much more in water treating field.
UF membrane
The filtering membrane with its aperture from 0.002-0.1μ m is usually called UF membrane. The volume of normal colloid is ≥0.1μm, latex≥0.5μ m, coliform, staphylococcus ≥0.2μ m, suspending matter and corpuscule ≥5μ m, so the germ, colloid, suspending matter, protein can be filtered out of the solution by use of UF membrane.
Maintenance
1. The filtration system should be sterilized regularly.
2. Before using, please use clean water to wash each component of the ultrafiltration system, so as to clean the protection fluid. During washing process, please make sure the water discharging valve is open.
3. Handle ultrafiltration component gently to avoid any damage to this precision instrument. Once stop using, please wash the ultrafiltration system using clean water and then use 0.5% formaldehyde solution for sterilization, and finally please make sure it is well sealed before storing.
In winter, the component should be given freeze-proofing treatment. Or else, the system will be scrapped forever.
Package
Delivered in wooden box.
We are a primary ultrafiltration system manufacturer and supplier in China. In order to suit customers' demands, we also provide a wide array of gold panning equipment, filling machine, lime digestion machine, chain bucket sand dredger, and more. In addition, with quality and reliable performance, our products are very popular in Singapore, the Philippines, India, Bangladesh, Libya, Russia, Iran, Iraq, North Korea, Vietnam, Thailand, Malaysia, Namibia, Nigeria etc.
If you are interested in our products, we welcome you to contact us at any time!